Components

EOD Accessories
Endoscope Kit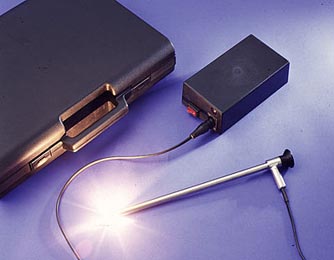 Two search kits designed to aid the search of cars, buildings and vessels.
Both portable, and come packed in foam lined fitted cases and include a fixed side viewing endoscope.
overall diameter 12mm,
working length 300mm
Illuminated by a powerful 10 W halogen lamp.
Both come complete with a 12V 2.3 Ah rechargeable power pack and battery charger.
Both kits arrive ready to use with spare lamps.

Foam lined fitted case (1 off)
Power pack for endoscope (1 off)
Uk battery charger for power pack (1 off)
Rigid endoscope 12mm diameter, 300mm long 12v (1 off)
Belt & pouch for power pack (1 off)